UPDATE:
Click here for our new list for 2019
We all know that there is no golfer who doesn't want a proper hit with a proper golf iron. Nowadays, there are so many irons that are labeled 'best golf irons 2018' - but only a few live up to the expectations of the skilled, experienced and knowledgeable golfer.
If you hate irons but love drivers, this is maybe the greatest invention ever.Jacob
3 Quick Tips Everyone Should Know Before Buying New Irons
Forged or Cast?

2 different production types dominate the market since years. Forged and Cast. Both types come with advantages and disadvantages. Make sure you understand them before you buy!
Forged Irons represent the more expensive and "professional" version of irons. Since they are created out of a single hot piece of metal a forged iron looks very solid.
Cast Irons however are created by pouring hot metal into a mould creating every possible form of irons heads. The whole process makes it easier to later add different materials and also has a much cheaper price to it.

Blade or Cavity Back?

Blade Irons are formed like a …well, like a blade! The face of the iron is very thin and has a smaller sweet spot compared to cavity back irons. Due to the evenly distributed weight in the head it is easier to curve shots. Low handicappers often choose blade irons and I'd NEVER recommend them to an amateur!
Cavity Back Irons basically has most of its weight distributed on the perimeter. You'll find mid to high handicappers playing with these irons since the forgiveness of these irons is 10 times higher compared to blade irons. The larger sweet spot is probably the most important factor making them the "easier" choice for most players.

Steel or Graphite Shaft?

You may already know that Steel Shafts are the most common shaft used in golf. The metal has a low price, great flexibility and durability making it perfect for its job as a golf iron shaft. Graphite Shafts however come with the advantage of its super lightweight nature and especially the extreme flexibility generating a lot of swing speed for players with low swing speeds. But this does come with a cost. Consistency.

Try, test and practice

Always try before you buy, visit demo days of club companies and invest time in your new clubs!
This blog uses affiliate links. If you buy something through an affiliate link I will be compensated at no additional cost for you. Thank you for supporting The Hole Story! More information can be found on our disclosure page.
If you are looking at the best golf irons for mid handicapper 2018, you will certainly notice that the Cobra F-Max golf iron pops out in every list. According to many, this is the lightest iron ever - a feature that makes golf more playable for golfers who need a little help.
EXPAND TO READ MORE
Essentially, this is a great beginner golfing iron - but at the same time, one that makes golfing easier and one that will ensure a perfect shot. From the cosmetic improvements to the actual design of the Cobra F-Max alone, this is certainly one of the best game improvement irons 2018 you need to consider.

Some of the other facts you need to know about this iron is that it is the first Cobra Super Game Improvement set available in one length - and the first one length of any kind that is available for women. So, the 'one length' feature certainly confirms Cobra's commitment to advancing the single length category, promoting consistency and improved scores. And that is what we are all about, right?

Even though one length is not a one-size-fits-all solution when it comes to the best golf irons for 2018, it is a feature that is in its early infancy and one that has massive potential to offer many significant benefits in the future.

As the company itself said, "We are excited to be the first brand that offers one-length iron technology to the super game improvement segment of the market - allowing both seniors and women to make most of the simplicity of a swing and one set-up for their irons. This certainly makes golfing a little easier and more fun."

If you are sure that this is the right iron for your needs, visit the link above and choose your hand orientation and flex - and you will have it shipped to your door in no time!
PRO
The "One Length" feature is extremely good for beginners and high handicappers

Great for seniors and women
CON
"One Length" may feel weird for experienced players
Next on the list of the best golf irons 2018 is a model by Titleist - the 718 AP1 Iron Set that includes more than just your everyday iron. This new model is made of graphite and features an amazing design which makes it fit the category of best golf irons for mid handicapper 2018.
EXPAND TO READ MORE
What's important to say is that the AP1 is the largest, longest and the most forgiving iron in the entire 718 family. By forgiving we mean the one that perfectly sites in your hands and lets you enjoy the best combination of distance and trajectory for each specifically-designed iron.

Another reason why the 718 by Titleist deserves a place in our best game improving irons list is the fact that it is thin, fast and has an unsupported face. This allows you to launch explosive balls with greater speed and more distance. Inspired by the C16 iron models by Titleist, the AP1 is designed with no limits on the main material (graphite) or cost in general, all in order to become one of the best game improvement irons 2018.

The high-density weighting produces a lower CG that ensures a higher launch with a shot-stopping control. The shot will fly significantly further than with other irons according to Titleist, and this is one of the many iterations the 2018 iron will have. The consistent contact also makes it one of the best golf irons for mid handicapper 2018.

Aside from the actual function, the look of this iron is sleek and modern - something that every golfer should expect when it comes to Titleist.

So, if you are looking for a modern, sleek and well-engineered iron, below is the link you need to click and buy it today.
PRO
Best for mid handicappers if you want to play the 718 family

One of the longest irons on the list

Titleist quality
One of Cleveland engineers summarized this iron perfectly: "A nice looking, high performing iron geared towards game improvement." Click "Expand" to find out why it really is so good.
EXPAND TO READ MORE
Finally Cleveland comes out with some new irons! It feels like years ago because well ..it has been years since they released a new set of irons! Most game improvement irons on the market have very chunky,
thick soles making them forgiving and overall easier to hit. That's what we want from them and that's why they are "improving" the game but on the other hand this chunkyness removes the versatility of the iron. Curving shots the exact way you want becomes harder with them but that is exactly what Cleveland got rid of with their Launcher CBX Irons.

They feature a V-Shaped sole that slides smoothly through the turf and transtions creates a great balance of "easy to hit" and "easy to control". The grooves on the CBX Launcher Irons are the same on all of them giving you consistent spin no matter which iron or wedge you are playing. If you ever have them in your hand check out the grooves in the grooves which is very rare but feels great.

Another feature I really like is that Cleveland decided to put the loft right next to the number of the iron making clear what exactly you are playing with.
PRO
V-Shaped Sole Technology

Grooves in grooves

High ball flight

Cleveland Irons!
It all started with Bryson Dechambeau switching to one lenght Cobra Irons and then winning on the PGA Tour. If you are interested in new golf irons coming soon 2018 click "expand to read more".
EXPAND TO READ MORE
One length, all irons. Every single iron in the set from 4 iron all the way to the gap wedge has the length of the 7 iron. This is the second generation of one length irons by Cobra and they claimed that it is even better now. Cobra changed the sole of the club to a more thicker one countering the complains from the first generation, the height from some irons. Long story short. Cobra suceeded by bringing more weight to the sole increasing the height by a lot. Especially the lob wedge has an amazing height.

Playing with these one length irons is so much fun but feels different. New players looking for their first full set of irons should consider this since the forgiveness and one length is actually reall good for high handicappers. Simply by not having to learn different shots due to the same lengths of them all you can cut your practice time by a lot.

Another nice feature is the Cobra Connect that comes with every iron in this set. This allows you to track your shots with Cobras system making your irons smart!
PRO
Best beginner irons 2018 due to one length

First generation problems fixed

Comes with Cobra Connect
CON
Switching to one length feels weird for some time
Mizuno also made its move with a new model that is definitely reserving a place in the list of high quality irons for this year, 2018, your year! It is the MP-18 multi-material construction golf iron set that we are talking about - completely redefined and with its boundaries pushed to the very maximum.
EXPAND TO READ MORE
According to Mizuno, this line adopts advanced technology, leveraging new materials (boron) that help the company take a more aggressive approach to styling. Noticeably, the Mizuno 2018 MP-18 has harder lines and strengthen lofts in the entire family of products.

While the Mizuno JPX line is modern, the MP line is seen as more traditional in general. However, Mizuno's main engineer Chris Voshall has admitted that the MP line had also evolved beyond what the designers wanted it to be - becoming one of the best game improvement irons 2018 with a focus on the expanded head size and the new boron-powered technology.

A lot of things make the MP-18 one of the best golf irons for mid handicapper 2018. Its head is larger, there are visible slot cavities and in some instance, a bit of the edges is revealed, something that was not too common for the MP line of products.

Seen by golfers as sophisticated and timeless, the MP-18 by Mizuno is one of the best game improving irons. It is the perfect middle where art meets science, resulting in a golf iron that no beginner or woman could say no to.
PRO
Great choice for blade - beginners

Slightly larger head. Therefore easier to play for high handicappers

Boron-powerered Technology
CON
Didn't find any noticable
With a little bit more perimeter weight and a cavity like back Callaway came out with their newest addition to the forged Iron family, the Callaway 2018 X Forged Iron.
EXPAND TO READ MORE
They look amazing, timeless, just beautiful. For me the looks are very important and this is an iron I'd bring with me on a lonely island. The back brings up something like an X - shape making it look modern but still timeless.

As usual with these "pro" irons the forgivenes is well.. not there. Don't think about getting these if you are just starting out. However, if you are low handicapper looking for something new you should have a look at these. The spin rate produced by the X Forged is one of the best on the market and has a very precise distance control. Ball flight, spin, launch everything feels great hitting with Callaways newest iron. This is a butter soft shot shaping weapon for experienced players trying to step up their game by a few percentages more. As a summary I'd say that this is pretty close to the best golf iron 2018 at least from Callaway.
PRO
Amazing spin

Very rewarding on good hits

Beautiful iron

Progressive CG
The P790 irons are positioned right between the M - series which is for the high handicappers and the P - range designed for very good players making these a great choice for mid handicappers trying to improve even more!
EXPAND TO READ MORE
Before I start let me tell you how gorgeous these irons are. I am in love with the hollow head design looking super fancy!
So many things are special about the P790 iron I don't even know where to start. It's a forged iron which is filled with "Speed Foam" after it is finished.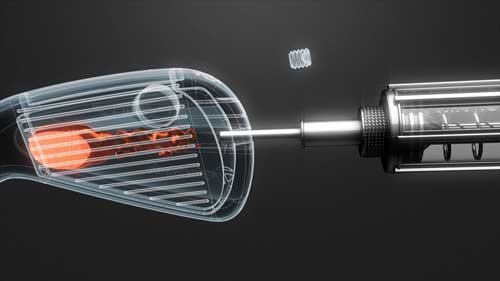 This technology changes the feel and sound and I can tell you that I really love it. I'd probably go as far as saying that this feels like the best Taylormade iron I have ever hit. The P790 has a lot of variety making it an iron for pros and even 20 to 25 mid handicappers due to its forgiveness. Don't get me wrong these are not as forgiving and don't have the lengts of the M1 or M2 but they certainly feel amazing! The precision and distance control is stunning making them one of the best irons 2018.
PRO
Look incredible

Best choice for 20 - 25 handicappers

Speed foam technology
In the end, all of these products utilize new technologies and are proven to change things when it comes to mid handicapper and beginner issues. Whichever you choose - you are making a great decision! We hope that this guide helped you see what the best golf irons 2018 on the market look like - and how to choose the best among the best game improving irons. Hopefully we brought the best golf iron reviews 2018 to you again (last year's article was an amazing and you loved it).
Are you ready to shop?🏌️⛳